THE AUTO INDUSTRY BAILOUT
Mich. lawmakers: Bailouts cheaper than bankruptcy
David Barkholz
Automotive News
February 18, 2009 - 1:12 pm ET
UPDATED: 2/18/09 2:14 p.m. EST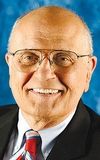 U.S. Rep. John Dingell, D-Mich.
DETROIT -- Two key Michigan lawmakers said today that the additional $21.6 billion in loans requested by General Motors and Chrysler LLC was prompted by deteriorating car sales and is still far less than the cost of bankruptcies.
John Dingell, D-Mich., a longtime industry ally, said a GM bankruptcy would cost the government $100 billion and a Chrysler Chapter 11 would cost about $25 billion.
The 100,000-plus job losses that would result from GM and Chrysler bankruptcies and the resulting decimation of parts suppliers makes approval of the newest requests imperative, Dingell said.
"Although this is a substantial sum, I support the companies' request because I have faith in their viability plans and shudder to think of the shock that their bankruptcies would cause the nation's already severely weakened economy," Dingell said.
Dingell spoke today in Detroit at a luncheon in his honor. He was the Crain's Detroit Business Newsmaker of the Year. Crain's Detroit Business is an affiliate of Automotive News.
U.S. Sen. Debbie Stabenow, D-Mich., echoed Dingell's remarks. Stabenow, in Detroit today to celebrate Dingell's award, said the worst vehicle sales numbers in decades made it necessary for GM and Chrysler to request more aid.
U.S. Rep. Sander Levin, D-Mich., said Tuesday's viability plans filed with the U.S. Treasury made it clear to all stakeholders, including bond holders, that they need to work with the companies to resolve the debt issues. And he said if there is a bankruptcy, it would be a Chapter 7 liquidation, not a Chapter 11 reorganization.
Dingell said there would likely be additional Congressional hearings to hash out the viability plans. Levin believes there is enough communication between the President and the new auto task force that hearings might not be necessary.
Stabenow said the viability plans were strengthened by new labor concessions.
As Automotive News first reported yesterday afternoon, the UAW agreed to give up some bonuses, unemployment benefits and overtime provisions at GM, Chrysler and Ford Motor Co.
Bob King, a UAW vice president who heads the Ford Department, said the provisions still must be ratified and declined to comment further.
King attended today's luncheon, as did Gary Cowger, GM group vice president for global manufacturing and labor relations. Cowger also declined to discuss details of GM's UAW agreement.
Dingell is the most senior member of the U.S. House and a longtime champion of the auto industry.
Separately, Dingell criticized state-by-state CO2 standards, which are supported by several top Democrats in Congress. "That idea simply won't work," he said.
Dingell said he saw no way carmakers could afford to provide a patchwork of products to meet varying standards.